I finally put together all the reasons why I love Portugal and why I plan to move there in the next two to three years!
The original plan was to move there after I reached financial independence, but that was when I had a job. Now that I have my own business, I can move there whenever I like!
My goal is to buy myself a home and bring my mom! I'd like to buy her a home too and retire her so she can spend her golden years gardening, traveling, lounging, and dog-sitting for me. That's the heavy price she has to pay!
I visited Portugal for the first time in 2018 and fell head over heels in love, but never thinking for a moment that living there someday was a possibility. I thought that was something only mega rich people did. Thankfully I was totally wrong!
The Landscape & The People
Portugal has so much to offer, with wine country, rolling countryside, and culture for days. Oh and if you're into surfing? Check out Nazare, the surfing mecca of the world, with the largest waves you'll see anywhere. Not so much into surfing but love the beach? Head south to the Algarves with endless beaches and stunning cliffs overlooking the ocean.
The Portuguese are also laid back, and welcome you with open arms which is refreshing and can be a little jarring at first especially for my little jaded New York heart. They are known for being extremely accepting of different races, religions, and cultures.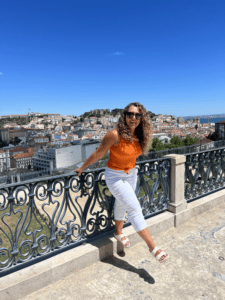 The Language
Since I speak Portuguese, the language "barrier" won't be as difficult, but even if you don't speak the native language, there's a huge expat community. Finding someone who speaks English isn't that difficult until you start wandering away from the larger city centers. Even so, you should take this as an opportunity to learn a new language so that you can truly be immersed in the culture. Don't let something like language hold you back!
The Immigration Process
Portugal also has many avenues to citizenship and their visa process is relatively easy compared to most countries. As someone who went through the rigorous immigration process in the United States I'm a little scarred and I dread anything immigration-related. However, from my research so far, it seems to be a very straightforward process although it may take a while. I plan on using an expat attorney to assist me with this. You can become a citizen through the Golden Visa Program (real estate), the D7 (investor/retiree), or just by living there for 5 years as a resident. There are many other paths as well including one through lineage if you do have Portuguese ancestors.
Safety
Another perk is that Portugal is ranked as the 3rd safest country in the world by the Global Peace Index (2020). As a woman living and traveling alone, this gives me so much peace of mind! The last thing I want to worry about is living in an unfamiliar country that is also unsafe. This is a top priority for me and I know it's also a top priority for many other people especially those with kids.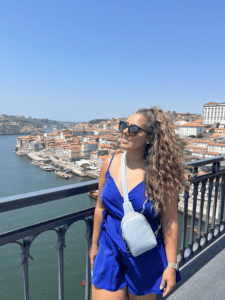 Cost of Living & Healthcare
Best of all is the lower cost of living! Portugal is actually super affordable. As in 40% less than the cost of living in the US. Everything is cheaper: Real estate, groceries, restaurants, and health care. You can live in Portugal comfortably on $1,500-$3,000 a month. They have universal healthcare for all residents of Portugal and it's very accessible. This is a huge relief since medical care is something that I know I'll need especially as I age. The fact that I won't have to worry about saving hundreds of thousands of dollars for basic medical needs is a huge weight off my shoulders especially since I'm planning to bring my mom with me.
Although prices have been rising thanks to people learning about Portugal's allure, it is still relatively affordable. I hope that I can find my beach front home in the Algarves soon!
Climate
Plus… who doesn't love sunny days with a high of 70!? Well in Portugal you'll get 200 days of sunshine on average. And if that's not your jam, you can drive north or take a train to Porto where you'll find a cooler moodier climate to suit your personality. Porto is absolutely stunning and known for its delicious food and wine!
The point is that none of this was possible until I discovered financial independence through investing in the stock market. That is the beauty of financial freedom. It gives you endless choices and the childlike permission to dream of a new life.
Would you ever consider living abroad and if so where would you go?