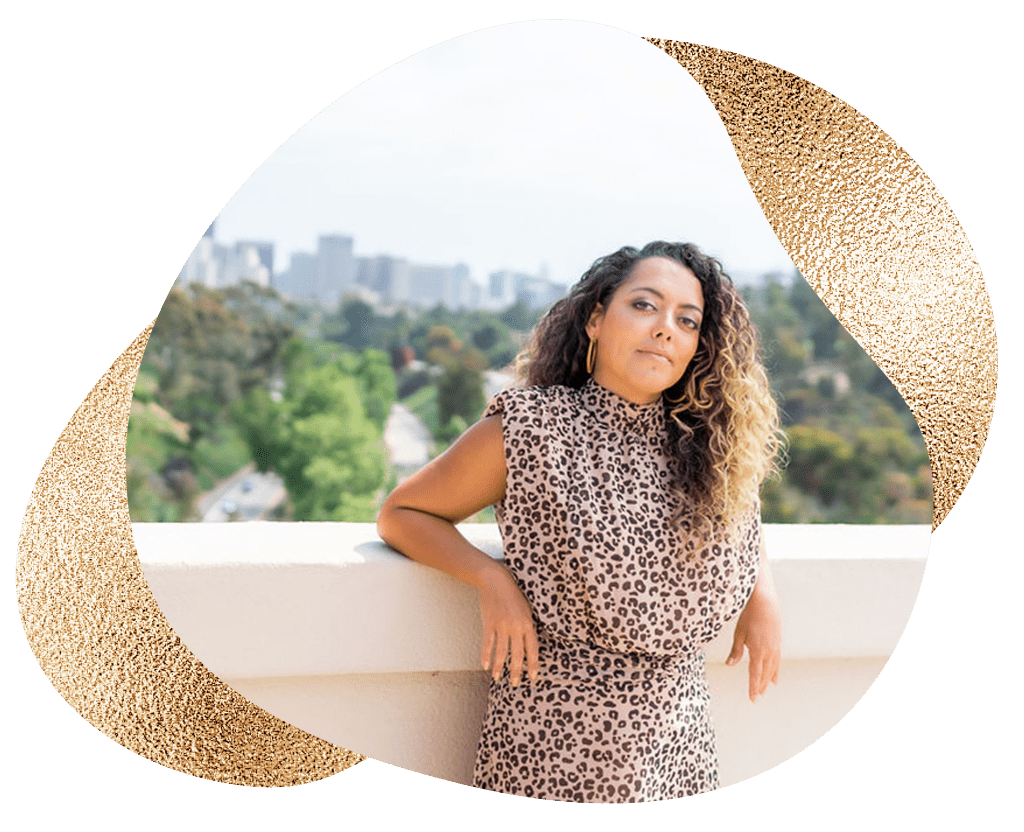 See what real people have to say about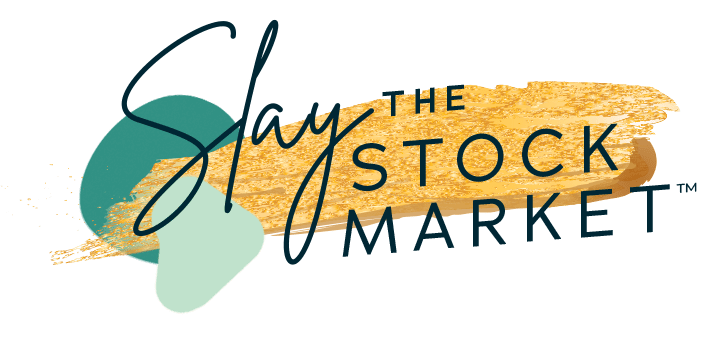 Your Class

changed my life!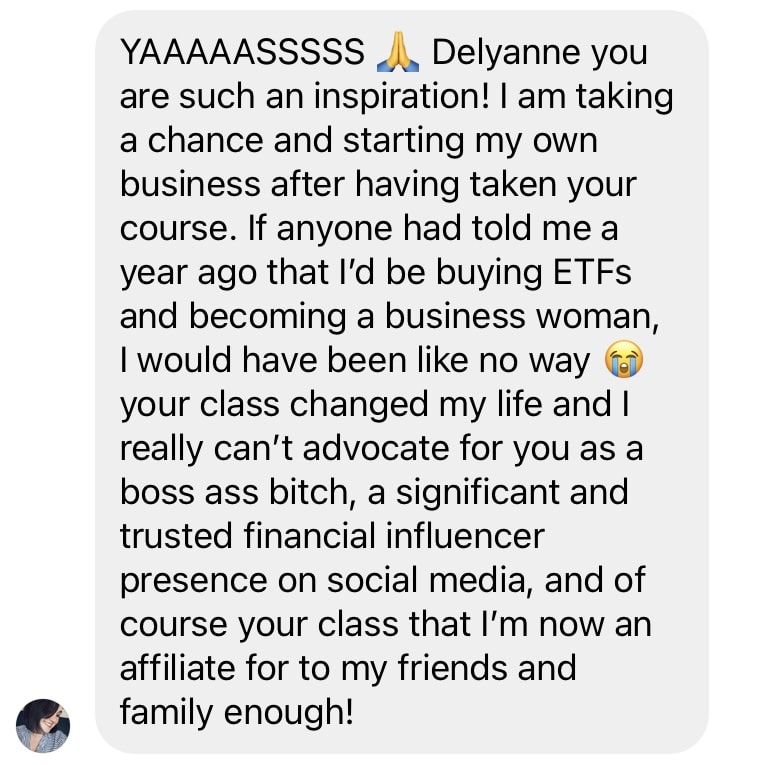 "YAAAAASS
Delyanne you are such an inspiration! I am taking a chance and starting my own business after taken your course. If anyone had told me a year ago that I'd be buying ETFs and becoming a business woman, I would have been like no way
your class changed my life and I really can't advocate for you as a boss ass bitch, a significant and trusted financial influencer presence on social media, and of course your class that I'm now an affiliate for to my friends and family enough!"
The Class Literally

paid for itself!
"Thanks to your class my Roth has been making me money. I had $4k sitting in a credit union Roth IRA account for years without it making me a dime. Honestly… it was like pennies since it was just sitting in a holding pot. I moved it to Vanguard and added more to it and look at those returns. Thank you!!! The class literally paid for itself."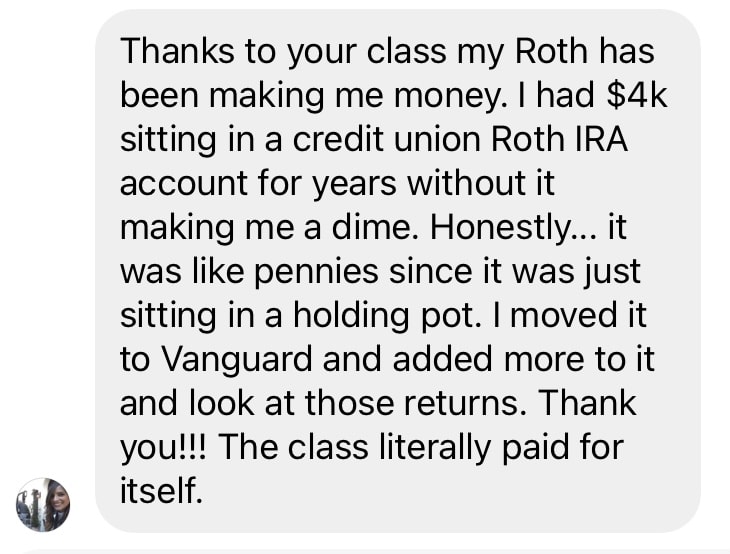 I'm now

debt-free and investing!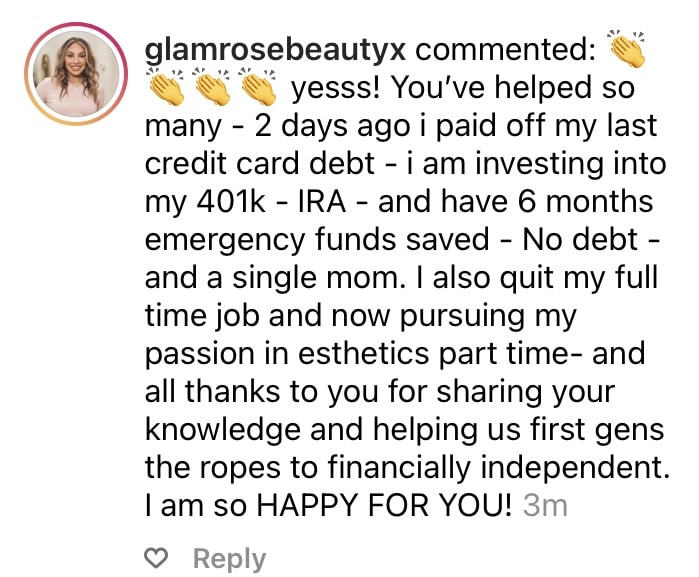 "👏👏👏yesss! You've helped so many— 2 days ago I paid off my last credit card debt— I am investing into my 401k— IRA— and have 6 months emergency funds saved— No debt— and a single mom. I also quit my full time job and now pursuing my passion in esthetics part time— and all thanks to you for sharing your knowledge and helping us first gens the ropes to financially independent. I am so HAPPY FOR YOU!"
Slay the Stock Market® is a

game changer!
"Woohoo! Keep going girl!!! What a great community you have built! Learning so much. I'm so happy I found you. And for anyone wanting to learn more about your finances and investing take Delyanne's Slay the Stock Market™ course! It's a game changer!!! Congrats!"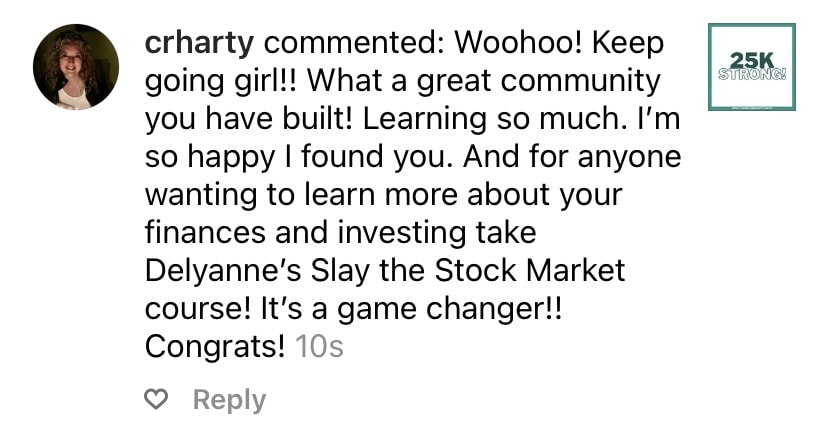 Caroline (34 years old) thought she was on track with her retirement, but felt there was something she was overlooking. 
When she started Slay the Stock Market™, she realized that she didn't actually understand any of the investments inside her 401k or how much she would retire with. 
She learned that by making a few changes to her portfolio and by calculating her financial independence number
she could retire early by 46 years old and move abroad!


Lauren had money saved up, but didn't know what to do with it. She had been hoarding cash in a bank account.
Even though she was working a full-time job and running a business, she found Slay the Stock Market™ easy to follow since she could watch it on her schedule. She used the Wealth Planner to calculate her financial freedom number and realized that it was possible for her!
She opened a Roth IRA, increased her 401k contributions. 
She started saving more money for her emergency fund.
After graduating college in 2019, Nanci (24 years old) realized she wanted more control over her money especially as someone who's first-gen.
Because her parents have already retired, she knew she had to be proactive for her financial future.
After taking Slay the Stock Market™, 
she opened and funded her ROTH IRA and started saving more money!
Julia had opened a retirement account after graduating college and started contributing to it, but after starting a business, investing had fallen to the side.
She signed up for Slay the Stock Market™ to re-focus on her goals and get the accountability she needed to actually take action.
She now knows her numbers inside and out. 
She has started saving and investing more! 
Are you ready to start
taking control

of your finances?
JOIN ME FOR MY
FREE
INVESTING CLASS!