My relationship with money started just like any other, at home.
As a Brazilian immigrant, my parents made it pretty clear from day one that money was tight and only for necessities. That meant school supplies, clothes and groceries. Everything else was a luxury.
As I started to learn more about the power of money, I was taught two lessons: credit is important so take care of yours and get an education. That was the extent of my financial education. So powerful were these two lessons that I've always had perfect credit and I went on to become the first to graduate college and law school in my family.
But as we all know, money is a lot more complicated than a credit score.
As I navigated my new life in New York City and I tried to keep up, I started to see my credit card balance rise. Between sky-high rent and my student loans, I barely had any money left at the end of the month.
So I did what many new graduates do. I took advantage of the deferment and forbearance options on my loans not realizing the compounding effect that would have on my balance.
When I graduated law school in 2008 I had about $110,000 in student loans.
By 2019, that had grown to $150,000 even though I had been paying it for 11 years. I was also hoarding cash in my savings account, hoping I would buy real estate someday because that's how you build wealth right?
However, the NYC real estate market made that almost impossible. I tried buying studio apartments three different times and all three times it fell through. Each time costing me money from non-refundable fees.
I was so frustrated. I had done everything right. I went to school, got good grades, had great credit, started earning six figures at a top employment law firm, and somehow I couldn't manage to grow my wealth.
I was able to save some cash but that's as far as it went. I looked to my coworkers for advice and one suggested that I meet with a financial advisor. I said sure and we set up a time to meet at a Starbucks nearby.
When I told her that I wanted to learn how to invest beyond my 401k and possibly buy property, she waived me off and told me that I had to get insurance. That's what would help me. She said once we had the insurance policy in place then we could talk about investing in other ways. She also recommended that I drop my 401k contribution to zero so I could save more money for a down payment. The whole meeting left a bad taste in my mouth. Thankfully I listened to my gut and did not buy the insurance policy or reduce my 401k contribution. I dodged a massive bullet but it also scared me away from getting financial advice.
A few more years would go by before I finally discovered the concept of financial independence through investing in the stock market. I was watching a special on Warren Buffett and he said two words I had never heard before: "index funds." That sent me down a rabbit hole of research.
I couldn't believe this was here all along and no one had told me about it.
An easy way to invest, long term, that would allow me to not only build wealth but also retire early! I was shook. This changed everything for me. Especially since I was so unhappy at work.
I had become extremely disillusioned with the legal profession and I was completely burnt out. But like so many people, I thought that I had no other choice and I felt trapped by the golden handcuffs of my six-figure salary. The thought of continuing to work as an attorney until I was 65 made me feel trapped.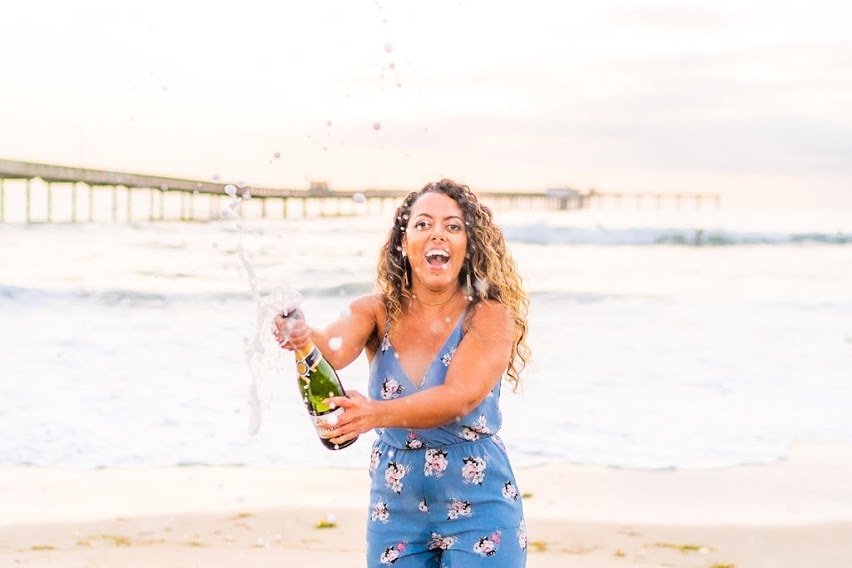 But that all changed when I found financial independence and a little formula that went along with it.
Take your annual expenses x 25 and once you have that amount invested, you are financially free! You can stop working and live off of that for the rest of your life. So simple and so powerful!
I immediately started running numbers and figured if I paid off my student loans and invested simultaneously, I could be financially free by 45. That was only 8 years away! Holy shit!
That was it for me. I started planning my exit strategy and off I went. What I didn't see coming was the total mindset shift that comes from learning about investing. I realized that cutting expenses wasn't enough. I needed to increase my income. But I was tired of doing work just for the money. That's what trapped me in my job in the first place.
I then realized that I had been spending tons of hours on Instagram, sharing my personal finance journey and I absolutely loved it. People were so intrigued by my journey and I was getting flooded with questions.
That's when I started Delyanne the Money Coach LLC. In January 2020, I bought a domain name and started coaching people on how to pay off debt and manage their budgets. But I had no idea it would grow to what it has become today. In September 2020, I took everything I had learned in the past year and I created Slay the Stock Market, a digital course and group coaching program that taught new investors how to slay debt and start investing. I wanted everyone to learn what I had learned because it had totally changed my life!
Today that program has over 6,000 students enrolled and continues to grow monthly.
I also have a community of over 500,000 followers on TikTok and Instagram who are also learning to invest as they watch my personal journey. Thanks to my investments and my business, I'm now on track to retire by 45.
I plan to retire in Portugal where I will also move my mom and buy her a home (click here to find out why I chose Portugal). Before I discovered the power of investing, I never thought any of this would be possible. I thought that at most, I would be able to save some money and have a comfortable retirement at 65. That's as far as my dreams would reach. 
Today I feel that the possibilities are limitless and that is the greatest gift of financial freedom: the ability to dream in a way that I've never dreamt before. That is the gift that I want to share with others. A new American Dream on our terms.